Updated Information for Travelers Updated Apr. 27, 2021
Fully vaccinated travelers are less likely to get and spread COVID-19. However, international travel poses additional risks and even fully vaccinated travelers are at increased risk for getting and possibly spreading new COVID-19 variants.
CDC recommends delaying international travel until you are fully vaccinated.
If you are fully vaccinated with an FDA-authorized vaccine or a vaccine authorized for emergency use by the World Health Organization:
You should continue to follow CDC's recommendations for traveling safely and get tested 3-5 days after travel.
You do NOT need to get tested before leaving United States unless your destination requires it.
You do NOT need to self-quarantine after arriving in the United States.
International Travel Recommendations Quick Reference
alternative text for web accessible infographic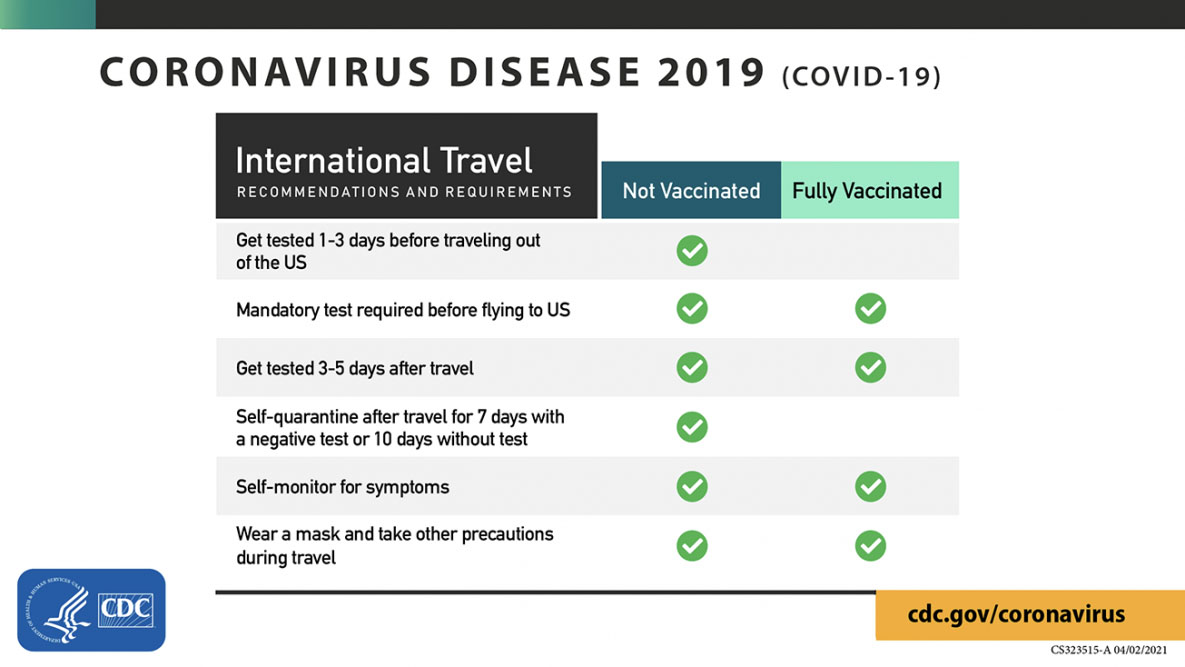 Check Travel Restrictions
If traveling internationally, check with your destination's Office of Foreign Affairs or Ministry of Health or the US Department of State, Bureau of Consular Affairs, Country Information pageexternal icon for details about entry requirements and restrictions for arriving travelers. Follow all entry requirements for your destination and provide any required or requested health information. If you do not follow your destination's requirements, you may be denied entry and required to return to the United States.
If traveling by air, check if your airline requires any health information, testing, or other documents. If traveling internationally, you must get a COVID-19 test no more than 3 days before you return by air to the United States. You are required to show a negative COVID-19 test result or documentation of recovery from COVID-19 before boarding a flight to the United States.
Information for people who recently recovered from COVID-19
If you recovered from a documented COVID-19 infection within the last 3 months, follow all requirements and recommendations for fully vaccinated travelers except you do NOT need to get a test 3-5 days after travel unless you are symptomatic. People can continue to test positive for up to 3 months after diagnosis and not be infectious to others.
* This guidance applies to COVID-19 vaccines currently authorized for emergency use by the Food and Drug Administration: Pfizer-BioNTech, Moderna, and Johnson and Johnson (J&J)/Janssen COVID-19 vaccines. This guidance can also be applied to COVID-19 vaccines that have been authorized for emergency use by the World Health Organization (e.g. AstraZeneca/Oxford). See WHO's website for more information about WHO-authorized COVID-19 vaccines