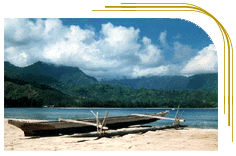 French Polynesia
Tahiti- Moreea and Bora Bora
The Tahitian Islands have been said to be among the most beautiful in the world. From the lush mountain vegetation to the unique multicolored lagoons, French Polynesia has it all for honeymooners and this is a perfect spot to end an already magnificent honeymoon. Use your last few days to rest and relax in your own overwater bungalow before returning home to begin your lives together. Upon arrival in Tahiti, you will connect to an Air Tahiti flight to Moorea. The Moorea Parkroyal is across the Sea of the Moon from Tahiti. The hotel provides all the comforts you would expect from a truly international resort. Fine cuisine with friendly professional service. You will indulge yourselves in an overwater bungalow. Enjoy exciting excursions like horseback riding, 4-wheel drive circle islands tours, scuba diving or motor cruising. Relax around the pool or on a white sand beach. Electric carts are available to move you from your bungalow to the public areas.
Complimentary activities include snorkeling, outrigger canoes, fresh water swimming pools and tennis. Demonstrations of pareo tying, dancing and handicrafts as well as dolphin encounters, water sking, para-sailing, exciting lagoon excursions on jet skis and various island tours can be arranged through the hotel's activity desk. Bathy's Club, a PADI certified dive center located at the hotel, can accommodate both guests of the hotel and divers from outside as well. They offer an excellent service for beginners as well as experienced divers.
After three nights in Moorea, you will take and Air Tahiti shuttle to your final stop, Bora Bora. You can also elect to complete your honeymoon visiting only one island and return back to your home city full of fond memories of your 1st-Air.Net honeymoon experience.