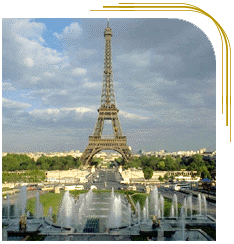 Paris
-Days 1-3-
Depart for Paris from your home city in the comforts of either business or first class. Upon arrival, you will be transferred to any of our hotel partners below depending upon your choice. Other properties are also available upon request.
Le Bristol Hotel (Chairman's Choice)
Le Grand Inter-Continental
Hotel Vernet
Le Parc
Hilton Eifel Tower
You will spend two full days in Paris in which we can arrange for touring or you can spend it at your leisure. Must do activities while in Paris include touring the Louvre Art Museum, visiting the famed Notre Dame Cathedral, strolling (and shopping) down the Champs-Elysées, or enjoying some of the best cuisine the world has to offer. Whatever your priority is, 1st-Air.Net will guide you to ensure your Parisian experience is nothing but great!