Sydney
-Days 17-20-
You will depart on a morning flight to the pulse of 'Land Downunder', Sydney:
Sydney has long been the cosmopolitan metropolis of Australia. This friendly, relaxed city has drawn people from all nations since Europeans first settled in the rocks. It is here between two famous landmarks, the Opera House and the Harbour Bridge, that you will find the ANA Hotel Sydney.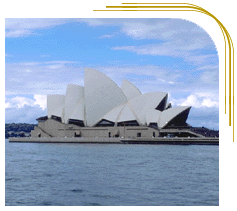 In Sydney, you will spend four nights at the ANA Hotel, offering breathtaking views of the Opera House and Darling Harbour. We can also offer you rates with our other partner properties including the following:
Ritz Carlton Sydney
Inter-Continental
Quay West Suites
The Regent
In Sydney, you will experience private tours including a tour of the city and Opera House, Koala Park, Double Bay and a photo with a Kangaroo. A Harbor Cruise is also highly recommended to give you a perspective of the city 'down under' from its beautiful waterways. A tour can also be arranged of the Blue Caverns, an adventure that takes you through tunnels 100 feet below the earth!
Upon your departure from Sydney, the remainder of your itinerary focuses on the arts of rest, relaxation and enjoyment together.